When it comes to property selection for your new home:
When it comes to property selection for your new home:

Local zoning codes are often not clear or readily available.
Real Estate Agents are not always a reliable source of information. Property feasibility and construction are not their expertise.
Site factors such as topography, utility connections and environmental issues require an expert to fully understand.

Avoid purchasing a property where you can't build what you want.


Why is budgeting properly for a new home so difficult?

There are so many unknowns. How much does an architect cost? What engineers do I need to hire? How much should I allocate for construction costs and permit fees?
Architects love to tell clients that they will save them money on construction. The problem is that most of them don't. It's not their fault really. It's just that traditionally, architects have little control over or knowledge of current construction costs.

If you don't have a proper budget near the start of a home design project you are bound to have cost overruns and expensive surprises.

Modative's design/build delivery provides our clients with a one-stop-shop. By acting as the architect, contractor and controlling all the necessary consultants, the entire team is brought onto the project early so the design can be carefully worked out to meet the budget. This method offers the following advantages:

Cost-effective design due to the Architect's access to construction and pricing information during the design phases
Detailed budgets delivered throughout the process
Reduced likelihood of cost increases or overruns
Familiarizes the entire design and construction team with the project early on, so there are less surprises during construction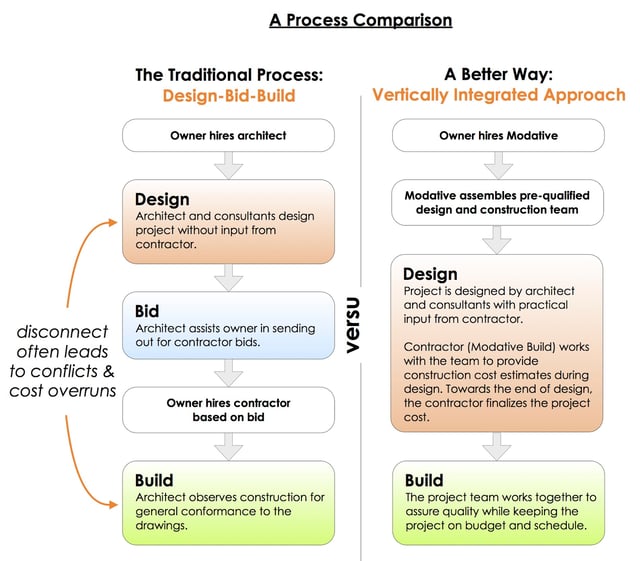 Modative is a Los Angeles based residential architecture firm that specializes in single family homes, small lot subdivision, accessory dwelling units, apartments and condos.