People often contact Modative about a project they have in mind, but they are often unsure of how to get started. Common questions we receive are:
How much will it cost?
What will the city allow us to do?
How much square footage can I build?
Is it feasible?
How many units can I build?
How much parking do I need to provide?
What is the process?
How long will it take to permit or build?
I have a lot / want to buy a lot / want to lease a property. What can I do with it?
Modative was recently contacted by two individuals who posed many of the questions listed above. The first individual was a long-time business owner with a hard-to-lease commercial auto body shop in Los Angeles. The second was a young entrepreneur looking to find a property in order to open a new restaurant/bar concept. With both of these clients, their long term plans were contingent upon taking really important first steps to decide what to do with the property they own/lease/were looking to purchase or lease.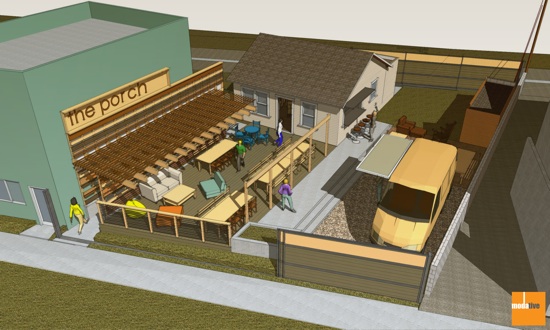 Our services often include conceptual renderings like this one for the aforementioned restaurant/bar in Los Angeles. These renderings are valuable tools for our clients (and their investors) to envision the project's possibilities.
Since the economic climate has shifted downward so dramatically, more and more of our clients are requesting that we provide answers to important questions in order to guide them in the decision-making process before they spend too much of their cash reserves. In our ongoing efforts to give people insight into the helpful services we provide here at Modative, we'd like to share a service in which several of our recent clients have had a particular interest: Site Evaluation and Planning Services.
The beauty of our Site Evaluation and Planning Services is that within a few weeks, for a smaller financial commitment, we can provide valuable insight into what can be done with a property. The level of detail provided in our analysis is catered to the clients specific needs. Some just want the basics, like of what uses are allowed and the code restraints, while others want a more detailed investigation, like program development, preliminary layouts, conceptual renderings, and even preliminary budget analysis of construction and soft costs (architectural, consultants and city fees).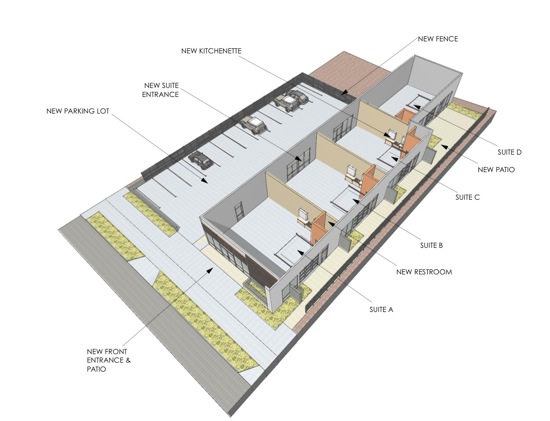 A descriptive 3D Plan we provided as part of the Site Evaluation and Planning Services for an auto body shop conversion into office commercial.
While we frequently provide these services for ground-up projects such as Residential
Small Lot Subdivision
projects, we also do quite a few for residential and commercial rehab and remodel projects.
Check out our Site Evaluation and Planning Services page to download a sample report we developed for a commercial rehab project and learn more about how these services are a great way to get a project started without a huge upfront commitment.
Download a sample Site Evaluation and Planning report:
| | |
| --- | --- |
| | A sample case study of a commercial rehab and former auto body shop in North Hollywood, California. |
Contributors to this post include Derek Leavitt, AIA, Michael Scott and Krystal Návar.