Last year we had the pleasure of having Enoch Sears from the Business of Architecture visit our office and conduct an on-camera interview. We've always really appreciated Enoch's approach of focusing on the business side of architecture, something that has been a vital part of our practice. So, last week, Enoch published the interview on his website and we are very happy with the results. It's an open and honest depiction of the critical issues we've faced in the last few years, which include (taken from Business of Architecture's website):
Promoting a hands-on approach for staff.

Creating a process to help your clients believe in your brand.

Learning to say "No" and staying focused on your firm's goals.

The benefits of showing your clients an open and honest process.

A design-driven website vs. an informative website.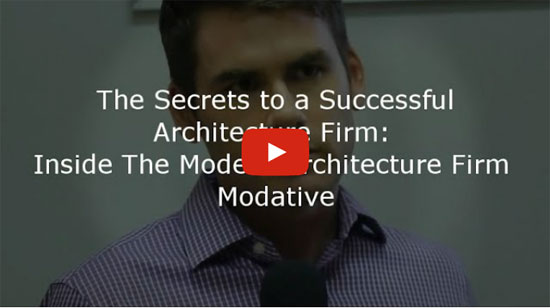 If you're interested, you can see the interview (and a transcript) on the Business of Architecture site - THE SECRETS TO A SUCCESSFUL ARCHITECTURE FIRM: INSIDE THE MODERN ARCHITECTURE FIRM MODATIVE

Enjoy!