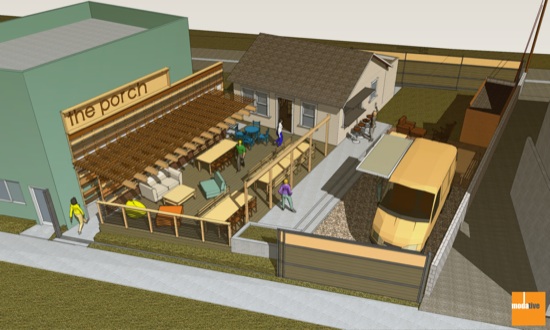 view from above
description
In 2006, a married couple from Austin, TX contacted us to help them find a property on which to build their house. They decided, instead, to buy an existing home, so they didn't need our services. But that isn't the end of the story.
Three years later, when the husband wanted to pursue his dream of opening up an Austin-style bar in Los Angeles, he contacted Modative to help him find a building to lease and build out. After much searching, it dawned on us that the vacant bungalow next door to our office would be the perfect location (and the prospect of a bar opening so close to our office was only a minor motivating factor.)
Anyone who's been to Austin can attest to the fact that the city is not short of places to drink -- especially places to drink outdoors. The idea for this bar stemmed from the realization that Los Angeles is in dire need of more outdoor bars. To add to that: casual outdoor bars where you can grab a pitcher of PBR and play horseshoes, not spend $9 on yet another microbrew.
With this goal in mind, Modative came up with the following design, utilizing the interior of the bungalow for beer and food service and adding a large porch to the front of the bungalow for outdoor lounging.
images