what is a beach hut?
the sand hut | lincolnshire coast, england
The Sand Hut, designed by modative, was part of an international design competition based in England called "bathing beauties."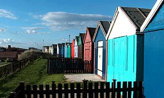 The following excerpt is from the competition brief defining a beach hut:
The Beach Hut - a non-residential micro building on the English littoral
The beach hut is one of the few building forms which has been seriously overlooked by contemporary architecture, they are perceived as a treasured feature of our coastal landscape, as quintessentially British as fish and chips and the knotted hanky, but in reality usually little more than a painted shed. The opportunity to reimagine the beach hut is a very exciting prospect for artists and architects alike for the following reasons:
1. Theses micro-buildings occupy an envious position of great natural beauty in the landscape where other building interventions are rarely permitted.

2. There is little in the way of function required from beach huts - essentially a tap, kettle (if you are lucky!) and four deck chairs - therefore the designer is freed from the more onerous requirements of building regulations and can consider the building primarily in terms of form and user experience, but most importantly

3. Everyone loves a beach hut! By definition they only exist for leisure purposes - eating, reading, pottering, snoozing, changing into and out of bathing costumes.
photo and text courtesy of bathing beauties competition