As we started design work on phase two of the Fay Ave project earlier this year, we had to keep in mind that the project's overall mission was still the same: affordable, interesting, modern housing that pencils out as rental apartments or for-sale Small Lot Subdivision homes.
Keeping that in mind, whenever we start a new project, we like to take a fresh look at things. This is no different for a phased project. So, we hit the ground running, establishing the following new project goals.
Decrease the number of phases from four to three in order to reduce the nuisance of construction for the neighbors and take advantage of economies of scale in construction pricing.
Incorporate improvements from feedback received from potential end users (the tenants of phase one) and subcontractors.
Retain ideas and elements that were successful from the first phase.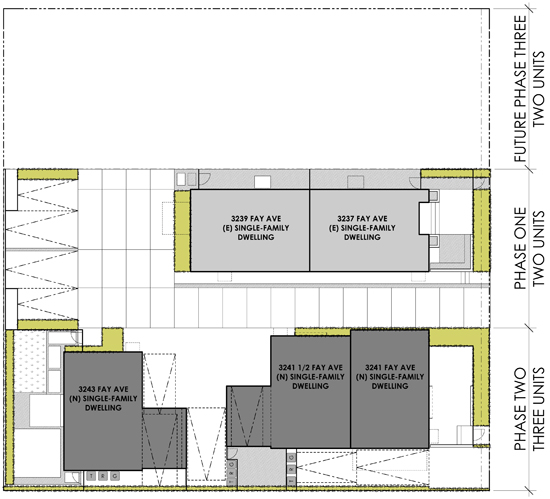 One of the best things about a phased development is that we were able to analyze and learn from round one (Fay 2X Homes) and incorporate the new knowledge into phase two. Outside of internally looking at the project through a critical eye, we also received feedback from potential renters of the first phase. The Developer and Modative both talked openly with prospective tenants about what they liked and, more importantly, would like to see improved. The responses were overwhelmingly positive, but as problem solvers, we focused on the areas needing improvement. Slightly larger bedrooms, increased storage, more yard space, and a master suite topped the list of most-desired improvements.

For us, the project working in a spreadsheet is just as important as it working in architectural plans. Phase two wasn't going to happen if it didn't make financial sense.

To keep costs down, we knew that we only wanted to add square footage where we needed it. Most of the spacial concerns were in the private rooms, so we knew that the additional area should be on the second floor. We accomplished this by cantilevering above (front unit) and bridging across (rear units) the carports. This move shifted the spacial balance, which was essentially 50/50 public/private in phase one, to lean towards the private space. We offset this shift by connecting the ground level living areas to large (by urban standards), usable outdoor spaces, creating a nice indoor/outdoor flow.


Upgrading one of the bedrooms to a master suite was another high priority item. This meant a larger bedroom area, an upgraded bathroom and a walk-in closet. At the minimum, we wanted the upgraded bathroom to have a dual sink, but we were also able to fit a larger shower and a linen closet. We also placed the wet walls back-to-back, a move that will make the plumbing subcontractor very happy.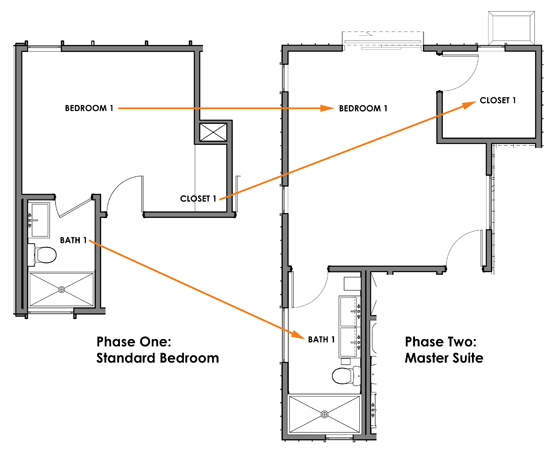 So, after adding all this area to the bedroom level, we crunched the numbers and found that the master bedrooms are 32% larger and the secondary bedrooms are 11% larger in phase two than phase one. While the walk-in closet naturally increased the master storage, we also grew the storage in the second bedroom by over 50%.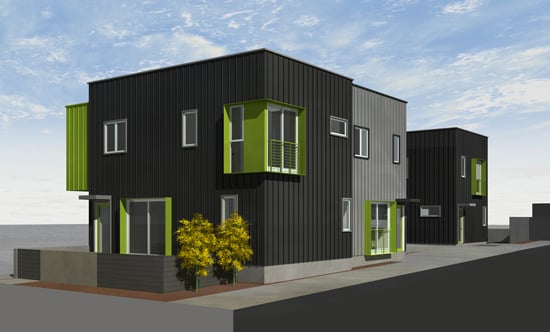 We kept the elements people liked from phase one: simple forms, interesting facade treatments and a cost-effective building design.

Phase two has three units and three door and window types, thus earning it the nickname 3X Homes, which is a spin-off of the 2X Homes concept of phase one. Construction on this phase will start in the fall of 2012 with construction completion scheduled for spring 2013.
Post by Michael Scott. Contributors to this post include Krystal Návar, Derek Leavitt and Christian Návar.