In our last post on the Roberts Avenue Residence, we took you through the schematic design process -- at least how our office goes about it. If you remember, the client picked Scheme A, which consisted of a series of shifting bedroom boxes on the ground floor, visibly and audibly sheltered from the neighboring park. The living level and guest bedroom were located on the upper floor, taking full advantage of the views over the park and beyond to Baldwin Hills.
To refresh your memory, here's an image of Scheme A during Schematic Design.
You will see that the driving concept remains in the final design: quiet, spa-like spaces on the ground floor and open, airy spaces on the second floor. Although, there have been some adjustments. For instance, the guest bedroom and the master bedroom swapped locations. The client felt that the master bedroom, with it's own private balcony on the second floor, would better benefit from the views. The bedroom volumes also shifted to alleviate the need for excessive steel structure to support unnecessary cantilevers.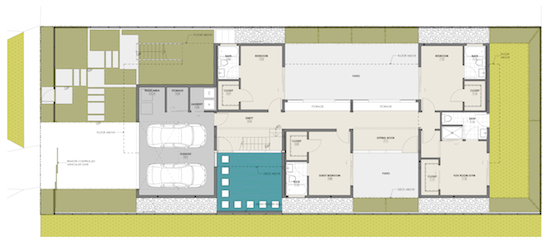 First Floor Plan
Second Floor Plan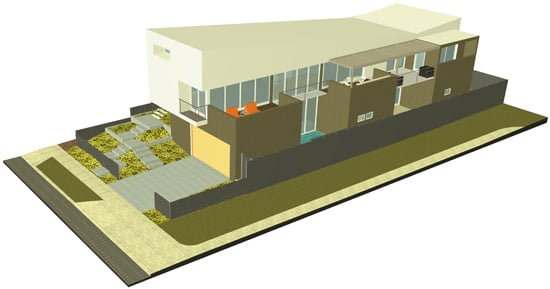 Rendering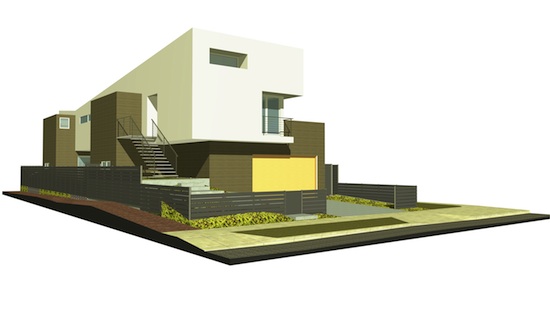 Rendering
We have submitted for permits and are now waiting to receive comments back from the City. Once that happens, and we make the necessary corrections, bidding begins. Construction is expected to start by January 2012. Look for more updates to come with photos of the construction process.
But, before we part, this is the perfect time to introduce our next project. As many of you know, a happy client on one project can lead to a happy repeat client on a new project. Our client on the Roberts Avenue Residence recently purchased a property on Fay Avenue -- a mere 0.2 miles from our office -- on which he wants to build 4 small-lot homes. This property is in Los Angeles, so it can take advantage of Los Angeles's Small Lot Subdivision Ordinance. I know! What a great fit for Modative! (If you're not familiar with the Small Lot Subdivision Ordinance in Los Angeles, click on the link and read up! It's pretty cool (and, really, my only hope for brand-new home ownership in LA.)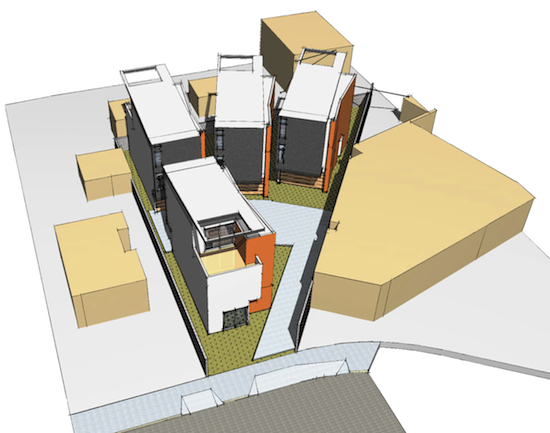 Fay Triangle Site Plan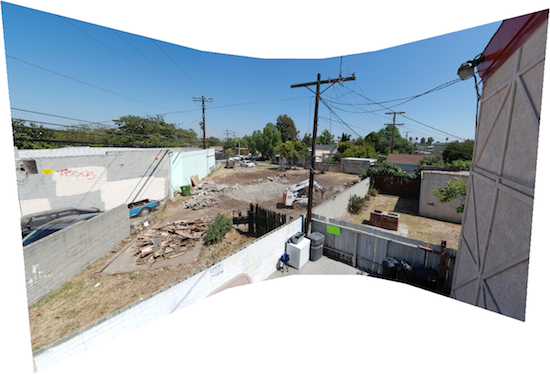 Photo of Fay Triangle site taken from adjacent building
We are excited about this new project for two main reasons. First, we have been eyeing this triangle-shaped property for the entire five years our office has been in the area, long before it was even up for sale. (I was hoping it would somehow be left to me in someone's will, but that would have been highly unlikely.) Second, this property is only four properties down from our Fay 2x Homes project. To have so many projects located within a mile radius of one another (in our own neighborhood, nonetheless!) has been really special. We have the rare opportunity to inject this area with thoughtful, modern design. (Check out our other projects in the area: Cullen St. Homes, Fay 2x Homes, Roberts Avenue Residence, Venice Urban Dwellings.) Stay tuned for updates on this new project we're calling Fay Triangle.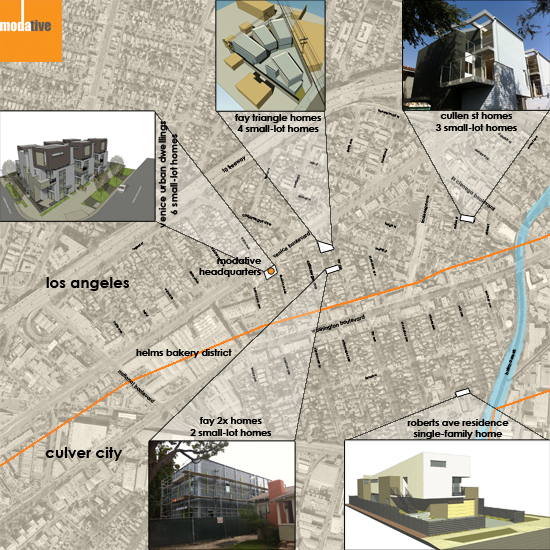 Map of Modative projects in our neighborhood
Post by Krystal Návar. Contributors to this post include Christian Návar, Derek Leavitt and Michael Scott .