A Better Way to Build
Modative was founded in 2006 with the goal of making modern design more affordable. Since then, we have been an architecture-only firm -- until last year when we formed a separate construction company called Modative Build, Inc. to provide our clients with an alternative to the traditional and often unsuccessful owner-contractor-architect relationship triangle. By having our own construction company we can now offer our clients a streamlined approach to getting their projects built at a reduced cost with far less headaches. Learn more about our approach.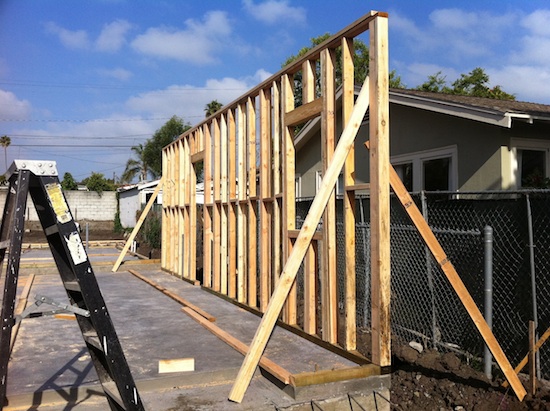 What You'll Be Working On
Although you may be occasionally asked to do a coffee run, this is not one of those kinds of internships. This is a hands-on, learn-though-real-experiences type of internship. You will not be directly constructing anything, but rather working on what really makes all construction companies tick: coordination and problem solving.
Bidding
Your primary responsibility will be to coordinate the bidding of several projects that Modative (the architecture company) has designed. You will work hands-on with the project designer and learn about all the trades that are required to put a real project together. You'll bid those trades out to subcontractors, then compile the selected subs into a beautiful, comprehensive bid. The projects you'll be bidding are primarily residential, type V construction. They are all modern.
Construction Management
You will also help us with the Fay 2X Homes, which are currently under construction a few blocks from our office. You'll get to see the construction process of these two homes happen first-hand, while also helping the project manager with behind-the-scenes coordination.
Collaboration
The construction company (Modative Build, Inc) and architecture firm (Modative, Inc.) operate in the same small office space without any cubicles. We're low on hierarchy and high on collaboration, so you might get pulled onto any number of projects.
What We're Looking For
We're looking for someone with an architecture or construction education/background, who like us, sees the importance of overlapping these two professions to achieve a greater goal. Someone that wants to turn the antiquated construction industry on it's head and that can use their design and organizational skills to bridge the architecture/construction gap.
If we like you and the opportunity arises, this internship could lead to a full-time position at Modative Build or Modative.
Bonus Points
You'll be using ArchiCAD, Numbers (Apple's version of Excel) and QuickBooks. Knowledge of these will help your learning curve. Spanish speaking will earn you extra points. We're also fans of creative resumes.
How to Apply
Send us a resume, portfolio and whatever else makes you look good to info@modativebuild.com .
To avoid spam, please include (MB Internship) in the subject line. Also, please provide short, concise answers the following questions in your email:
1. Please describe your current level of experience/education in the architecture and/or construction industry. If you're still in school and this is your first job, that's fine too.
2. Do you have experience with any CAD or BIM software?
3. Do you have experience with Excel and/or Numbers?
Schedule
We will be accepting applications until 6 pm PST on 06.09.11. From the applications we receive, we will narrow it down to 5-10 candidates for 15-minute speed interviews on 06.13.11. Follow-up interviews will be conducted later in the week if necessary. The internship will begin on Monday, 06.20.11 and last until late August or late September 2011.
Internship Location
Modative Build, Inc
8734 Venice Blvd. Los Angeles, CA 90034
Map
About Our Location: We're two blocks east of Helms Bakery, adjacent to the Culver City Arts District and within walking distance of several coffee shops and restaurants. It's a great central location in the LA basin.