Instead of publishing my personal resolutions for 2010, I thought I'd fill you in on what Modative has in store for 2010.
1. Integrated Project Delivery
Here at Modative, we're never mistaken for traditionalists. I'm not just talking about our architectural style, but the way we do everything. This is why we are committed to further moving away from the traditional design-bid-build process into integrated project delivery. We feel that this new way of delivering projects to our clients not only distinguishes us from the competition, but makes the process easier on our clients, contractors and even us.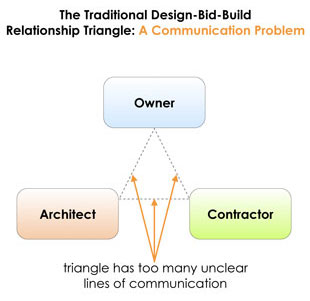 And since we're not looking to procrastinate on our 2010 resolutions, we've already added a section on Integrated Project Delivery to our website so you can see what it's all about.
2. Beyond Architecture
In more and more of our projects, clients have been asking us to go beyond our core architecture services to provide them with many of the other things that go into getting a project built.


Why? Because coordinating with one person (Modative) is much easier than coordinating with ten different consultants. We also prefer this one-stop-shop service because it further enables us to deliver the finished project as envisioned.

A glimpse of what we can provide can be found on our services beyond architecture page.



3. Modative Build
| | |
| --- | --- |
| When we founded Modative, one of our primary company goals was so important to us that we put it on our business cards. Instead of "Architecture", we used the tag line "Design, Develop, Build." And while we have assisted with development decisions on the Venice Boulevard Urban Dwellings and Fay Avenue Art District Dwellings, we haven't yet acted as the contractor on one of our projects. That will soon change as I'm proud to announce that Modative Build will be launching this year. | |
4. Small Lot Subdivision
When I tell people I'm an architect, they often ask, "So, do you do houses or (commercial) buildings". "Both" I answer.
Our firm has always kept our project types diverse: a fairly even split between residential and commercial. And within the residential category, there has been a healthy mix of single-family and multi-family projects. However, if there's one project type that we've done more than any other, it's clearly Small Lot Subdivision, which is really a hybrid between homes and condos. We've continued to pursue and take on these Small Lot Projects because we believe in them as the future of residential development in Los Angeles (and a lot of other places).

To show our further commitment to this unique project type, we've expanded our Small Lot Subdivision online presence with a new Small Lot Subdivision Blog and a free guide on the basics of developing Small Lot Subdivision Projects in Los Angeles.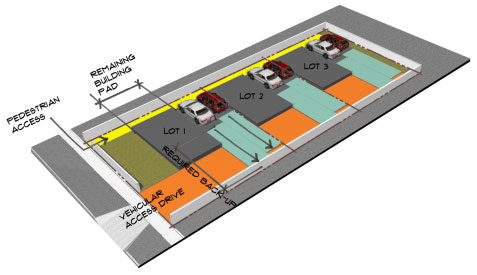 Sample diagram from the Small Lot Subdivision Guide