When discussing licensed professionals here in the USA, architects are still a bit of a mystery.
Surely you've seen enough doctor shows to get a feel for the intern/resident/attending path for doctors.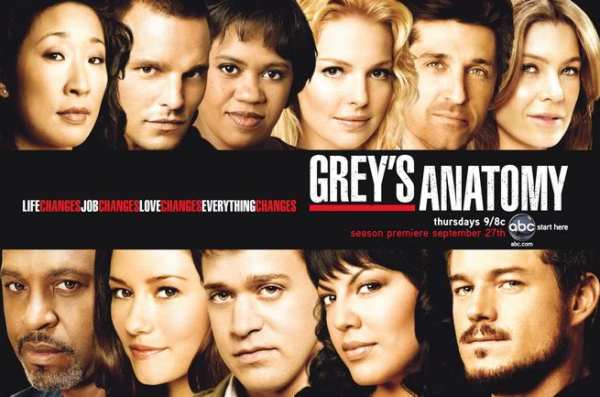 This group has been educating us on what it takes to be become a licensed doctor in dramatic, scandalous fashion.

You probably also know a law school graduate who's disappeared into study mode for the bar exam?
But what about architects? How do architects become licensed?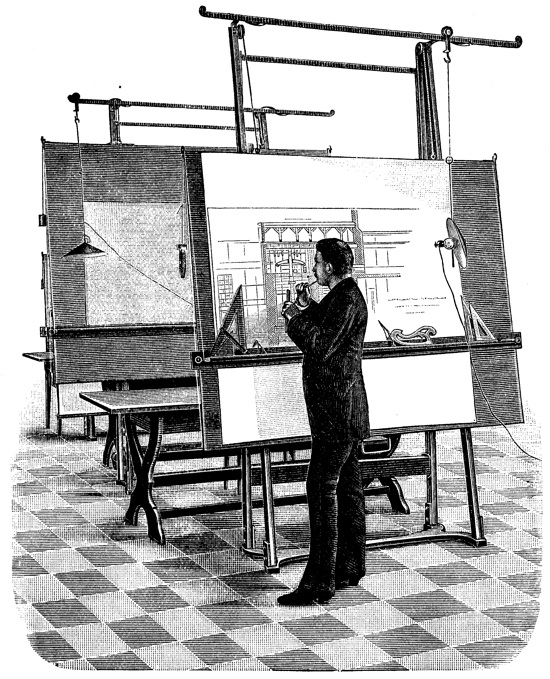 Is this still how the public perceives architects? It would really hurt my back to work like that. Image from "architect" wikipedia page.
There Aren't Many Architects

Don't feel alone if you are uncertain how one becomes an architect. Many architecture students and even some in the field, don't have a grasp on the licensing process. One of the reasons for the mystery is simple: there aren't many architects. Even in the most populous state of California (my home sweet home), there are far fewer licensed architects than lawyers and doctors.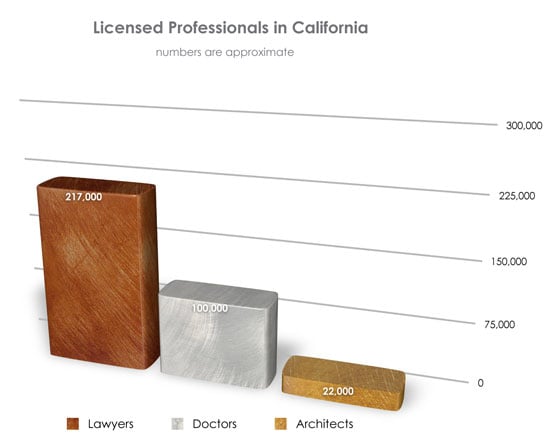 So, before we get started on how to become a licensed architect, here are two things to keep in mind:
There are national standards, but every state issues their own licenses and sets their own requirements.

The process continues to evolve. By the time I'm done writing this, they've probably added another test or internship requirement.
The Four Basic Steps to Becoming an Architect
1. School
As you would expect, you'll most likely need to go to school. Not just any school, but an accredited program. There are currently about 150 accredited schools. To find one, you can start by checking with the National Architectural Accrediting Board.
There are a few types of degrees that you can get in architecture that qualify:
Bachelor of Architecture (BArch)- Your basic, intense-limited-sleep-and-social-life-most-of-your-courses-are-predetermined, undergraduate university degree. I graduated with one of these degrees about 10 years ago and although I'm not as bitter as I may sound, I am still tired. Also note that BArch programs are five-year programs, so tack on an extra year of tuition compared to a typical major.
Master of Architecture (MArch)- You don't need an undergraduate architecture degree to apply for a graduate degree, but there are masters programs that are shorter for those that already have a BArch degree.
Doctor of Architecture (DArch)- If you decide to become one of the dozen people in the world that have one of these rare degrees, then you are too smart to be reading this blog. Move along.

2. Internship

If you still want to be an architect after school, you'll need to get a job working for an architectural firm. While you work for (often little) money, you'll be completing your internship hours. There's a system to this internship madness and it's called the Intern Development Program (IDP). The bad news is that IDP involves documenting work hours. The good news is that IDP's intention is good: to give young professionals a well-rounded experience in the architecture field.
IPD completion requires 700 training units (8 hours per unit) divided into 16 or so categories that cover a diverse spectrum of what architects do. This program is intended to better educate interns and prevent young professionals from being abused by only giving them repetitive tasks (stair details anyone?) that do little to provide the necessary real-world education.
Some states also have extra internship requirements (such as California), so be sure to check with the state architects board.

3. Testing
Long gone are the days of prospective architects taking a four-day paper and pencil exam administered once a year. Since 1997, national testing has been computerized, offering candidates the "opportunity" to take the different portions of the exam in any order and at any time they can get an appointment at the local computer testing center.
The national tests, or Architect Registration Examination (ARE) as they are known have multiple divisions or tests that must all be passed. When I took the ARE, there were nine tests that I took sporadically over several years as I found time to study while also working full time. There are now seven divisions, with combinations of multiple choice, fill-in-the-blank, and graphic portions, which require test takers to draw and create layouts in a CAD-like program.
Some states also have additional testing requirements such as California's Supplemental Exam. I took this unpopular, formal, oral formatted test and it was not fun. Good news for California architects-to-be is that there are rumors that the California Architect's Board is changing the oral format of the exam.
4. Licensure
So, once you've completed the above three steps, you'll need to register (meaning pay a fee) with your state (or multiple states) and verify completion of the requirements. Once you're licensed, you can officially call yourself an architect.
Architects can put the initials R.A. (Registered Architect) after their names, but it's more common to see AIA (American Institute of Architects), meaning they're a member of the national professional association for licensed architects.

Many states (and the AIA) have continuing education requirements, which means architects have to document educational hours in topics relevant to the profession to renew their licenses.
So...

After outlining all of these steps, the question becomes, is it more difficult to become a licensed architect, doctor or lawyer?