One of the major components the energy efficiency of any building is insulation. Insulation is critical to maintaining comfortable indoor temperatures by either keeping the heat in or out of a building.
Green Insulation

As sustainability gains momentum in the building industry, new products are available that rethink insulation. One of these is recycled denim insulation. Yes, old jeans. One of the leading manufactures of this green product is UltraTouch.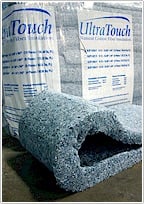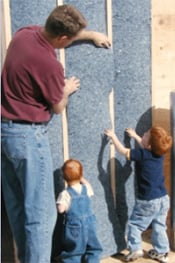 It even looks like your old jeans. (images from UltraTouch & Victor Insulation)
Don't Eat the Pink Stuff

UltraTouch Natural Cotton Fiber Insulation is targeted as a replacement for traditional fiberglass insulation - the typically yellow or pink soft looking stuff you see between the studs during construction. Yes, you're probably also picturing the pink panther. If you haven't had the pleasure of handling traditional fiberglass insulation, don't. It's not pleasant stuff to to touch (itchy) or breath (can cause respiratory problems). I definitely wouldn't wear pants made of the stuff. UltraTouch on the other hand is made of safe, easy to handle, recycled denim.
UltraTouch comes in rolls and is easily installed.

Product Info
So aside from this obvious point that it the product is safer for people to install, here are a few other interesting factoids:
The insulation is 85% post industrial recycled fibers.
Has acoustic ratings approximately 30% better than traditional insulation. Less outside or neighborly noise.
The cotton fibers are treated for fire resistance - Class A rating.
No VOC concerns - those little particles you don't want to breath.
Good mold resistance.
Obviously helps with LEED certification points.
Cost

A common question, as with most green products, is does it cost more? Well, yes, it does. How much more depends on the size of your project and the construction market. However, the short and long term benefits of this product far outweigh the upfront costs.
At Modative, we are now specifying this or similar products instead of traditional fiberglass insulation. If you are concerned about the cost, we're happy to help you compare the cost of this green product to traditional insulation.