We've all heard the story too many times now. Banks tighten up lending, the stock market tanks, housing prices fall, etc. etc. This downturn has no doubt affected just about everyone, but cetainly the building industry has been one of the hardest hit by the economic crisis.
Saving Projects
Although not all building projects have been saved from this downturn, we at Modative have utilized a strategy to keep most of our projects moving forward in this time of uncertainty: SIMPLIFICATION.
Value Engineering

Several of our projects have called for a "simplification" of their designs to lower construction prices and regain feasibility in this new market reality. This "simplification" of a building's design is what we in the industry typicially call "value engineering". Value engineering is esentially reducing the construction cost of a building by changing it's design, quality or both. Although this often has a bad connotation in the architecture world, we have been happy with the results of the few projects in the office that have recently undergone some value engineering.In the coming weeks we'll post updates to the designs of these two projects.

| | |
| --- | --- |
| | |
| Venice Boulevard Urban Dwellings | Fashion Square Car Wash |
The Timing of Design Changes

The reason the value engineering of these buildings has gone so well has everything to do with timing and our approach to project management. Often times in a traditional architecture process, the contractor is not brought into the project until late in the game, after the project has been almost fully designed and most of the technical drawings complete.

Get a Contractor Involved
We at Modative learned long ago that this traditional architect/contractor relationship is often risky because you don't really know realistic building costs until most of the architecture is done. Architects are good a number of things. Estimating market-rate construction costs, however, is better left to contractors. For this reason, we prefer to bring a contractor on early and often to give feedback on real construction costs throughout each step in the architecture process. This means that if the project is over budget or you have a massive shift in the market (as we have recently witnessed), adjustments in the design can be made much faster, easier, and with minimal cost to the project owner. The alternative of changing a project's design when its far along in the process can be very expensive and unpleasant for everyone involved.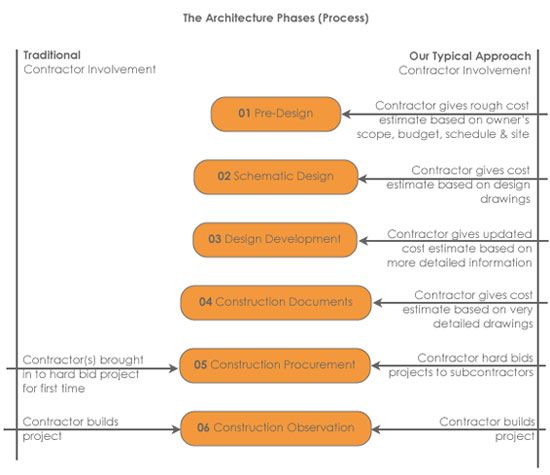 A comparision of our typical approach to contractor involvement versus the traditional design/bid/build approach.
Learn more about the architecture phases by downloading our free guide.
Starting a New Project
Now that we are in a down market, we feel that this approach that we have embraced enables us to handle the tighter budgets that many new projects now face. Having a contractor around to give cost feedback throughout the process is critical to keeping things on budget. We work with several contractors that can provide this service to our clients even if the client does not want to commit to using that contractorfor the actual construction.
Design Changes
In the coming weeks we'll be posting a few examples of our projects that have undergone some value engineering design changes to adapt to this new economic climate.