While on travel over the holidays I had the pleasure of having a few 10+ hour flights back to back. To alleviate some of this strain, my wife and I extended our layover at Heathrow Airport (London) to try to get some rest at the recently opened Yotel
www.yotel.com,
located within Terminal Four.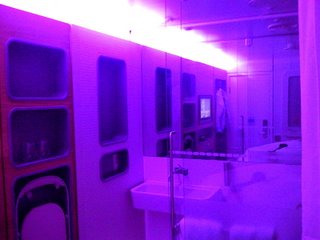 Yotel is a new chain of pod style hotels springing up in European airports. The concept is simple: provide a micro sized room at a (relatively) affordable rate and have it be conveniently accessible to the long-haul traveler.
Our seven hour layover allowed us a five hour stay in a premium cabin. Yes, they charge by the hour, but not in a sleazy kind of way. Here's my take on the Yotel:
The Good
Concept - Great idea based on airline first class sleeper cabins.
Location - Checking-in without leaving the airport is a must if attempting a short layover stay.
Design - Although windowless (to the outdoors), the small cabins feel roomy and comfortable. The high tech modern look is very appropriate and well done.
Flexibility- The double bed electronically inclines to a couch or lays flat for sleeping.
Bathroom - A private bathroom with shower in such a small space was impressive and the glass wall partition to the bedroom helped to avoid either room feeling cramped.
The Bad
Check-In - A computer (like an ATM) is used for self check-in. It seemed to work fine, but a staff member interrupted and handled some of it manually. Maybe this is because our room wasn't ready. We had to wait about 15 minutes in the tiny seat-less lobby - not really acceptable when you only have the room for 5 hours.
Room Controls - Like the design, much of the rooms controls are high tech with buttons that control lighting schemes, etc. I'm a techie guy and still found the controls a bit confusing.
Wi-Fi - Internet access is free through either an ethernet hookup to a laptop or by using the TV system's keyboard. The TV internet system was slow and the interface was barely usable. Wi-Fi would be better, I could have used my iphone.
The Ugly
NOISE - Between the frequent vacuuming of rooms, others checking-in, toilets flushing, and staff walking down the hall, the frequent noise made it hard to sleep. As far as soundproofing goes I'd give them an F. The rooms have a seemingly unnecessary window to the hall that surely wasn't helping. The walls and floor even seemed to creak every time someone went down the hall. I could even hear the airport announcements from in the room. My suggestion would be to investigate some kind of "white noise" system to drown out all these unwanted sounds.
Overall, the Yotel is a great idea that I would love to see expand if they could only deal with that pesky noise problem.