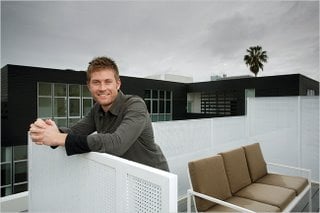 My brother, the developer (Grant) is in the New York Times today. The photo above is from the article.
Lorcan O'Herlihy (Architect) and Richard Loring (Developer/Builder) did a nice job with this project; another example that there is still quite a market for modern multi-family housing in Los Angeles.
-
My brother/Pacific Beacon Properties, LLC and Modative are currently developing/designing a six-unit housing project on Venice Boulevard here in Los Angeles utilizing the new small-lot subdivision ordinance. Even with the current housing slow down, we are enthusiastic about the future of these type of developments.