Design
Although Modative is at its core an architecture firm, we have always been interested in expanding beyond this traditional role into both development and construction. Hence, the whole "Design, Develop, Build" tag line (see below) and philosophy. As of several months ago, I'm happy to announce that through collaboration, our push into these two other fields is complete.

Develop
As previously announced, we have had an ongoing collaborative relationship with Pacific Beacon Properties, LLC, a development company, working on two small lot subdivision projects in Los Angeles. We not only provide architectural services for Pacific Beacon, but assist with development analysis and decisions.
Build
For the "build", we have teamed up with Libiano Construction Inc., headed by Mark Libiano. We have known and worked with Mark for many years and the results have been great. Libiano Co. is also involved the the two small lot subdivision projects, offering his construction expertise throughout the design and construction process. Having a close collaboration with Mark has proved so successful, that we have decided to offer this collaboration between architect and contractor to other potential clients as a true design/build team.

The Kayo Connection
With this design + build collaboration comes the opportunity to collectively market our services as well. This is where Kayo comes in. Kayo is a long time (11 year) friend and colleague of the three founders here at Modative. She also happens to be Mark Libiano's wife. So, who better to go out there and spread the good word of both entities.
Just as we here at Modative have let you know a bit about ourselves in the profile section of our website, we thought we would give you a sneak peak into the life of Kayo N. Libiano...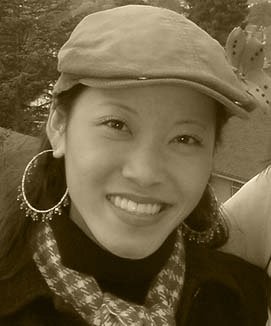 Early Years
Canadian born, Kayo moved to Southern California at the age of 3 and began her training in classical ballet, continuing as an avid dancer for over 17 years. She attended dance academies in the OC, LA and even studied ballet in Japan for a year, so it was not surprising that she greatly appreciated the arts and cultures of different countries from an early age. Though, what did come as a surprise, was when she wrote in an essay in Junior High English class that she wanted to be an architect, NOT a dancer when she grew up. Her thought process was that the body deteriorates with age, but the creative mind lives on... What sealed the deal of her conviction was when she fielded comments like; "There aren't many famous female architects in the world" or "How will you succeed in such a male dominant profession?" Kayo's stubborn and tenacious personality took hold and she set out to prove everyone wrong.
Fight On!
The instinct to create personalized spaces always interested Kayo and she was constantly rearranging furniture, designing accessories and painting pictures on the walls in her family home. Her first sewing machine was gifted to her at the age of 10 and though dance was her #1 passion, making her own clothes and throw pillows came in as a close second of her favorite things to do. By the time she graduated from High School, she had completed 3 years of technical drafting courses as the only girl in the classes and her hopes of attending architecture school were cemented in place. USC served as a training ground where she honed her skills and where she met many of her future colleagues whom have greatly influenced her career thus far.
Experiences in the Field
Post graduation, Kayo went to work for David Jay Flood Architect (DJFA) with her friends, Derek Leavitt and Michael Scott whom both graduated a year before her from USC's Architecture school.As a team player, she worked on several architecture and interior projects.From DJFA, Kayo took a job as Project Manager at Jacquez Marquez Architects (JMA), where she got a taste for designing high-end homes and day-spas in Beverly Hills and Greater Los Angeles.
Going Corporate
Knowing the importance of the great American Corporation on the economy in the United States, Kayo worked for Merle Norman Cosmetics as a franchise designer, where she built-out stores and oversaw installations for studio owners across the nation from Las Vegas, Chicago and New York.
One of the Guys
As girly as Kayo might appear on the outside, she has no problem sporting a hardhat and a construction belt on-site, or dealing with city officials.Whatever it takes to get the job done, she is up to the task, even if it means roughing it with the boys.Her path crossed with Christian Návar, another old friend from USC at Studio 9one2 Architecture when she moved to the South Bay. As a designer and project manager, Kayo kept the office organized and had the opportunity to collaborate on beautiful contemporary homes, commercial buildings and most importantly, developed contacts with a slew of subcontractors which are vital connections in the building industry."It's all about who you know and how well you can keep up good public relations!"
To Have and to Hold
The little secret to Kayo's success in architecture comes from her husband Mark, whom she dated since her senior year at USC. Being a General Contractor by trade, Mark has steered and coached Kayo through the nuances of the architecture/construction world and while letting her make her own mistakes, has above all, taught her what it takes to survive in the admittedly "male dominant" building industry. Today, Kayo works hand in hand with Mark (whom she married in 2007) to build his growing construction company and also acts as the link between Modative and Libiano Construction, Inc. as a Design + Build team. She heads-up the two companies' marketing and is an enthusiastic supporter of both thriving businesses.