I just returned from a vacation in the Greek islands and discovered some amazing historic examples of designing for the environment. The trip began on some of the Cyclades islands: Paros, Ios, and the better known Santorini. These islands contain the type of architecture one often pictures when they think of the Greek Islands; white painted flat roofed structures with minimal blue trim. These collections of white boxes stand out beautifully against the often barren brown landscape and deep blue color of the Mediterranean sea. This clean and practical style stuck with me as almost modern in appearance. Created only for pure function. No decoration necessary.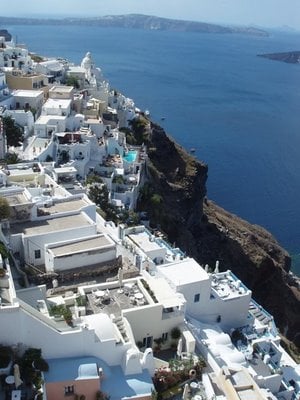 The Cyclades Islands: Santorini
This style that became so common among the Cyclades islands changed dramatically when we reached our final destination of Samos located in the lesser known North Aegean island chain. Samos, less than 80 miles away from the Cyclades islands contained structures with pitched tile roofs and much less white paint.
The North Aegean Islands: Samos
Intrigued by this dramatic difference in the architecture of these islands I asked a tour guide/ archeologist for an explanation. She explained that the reasons for the difference was simply climate.
The Cyclades islands were very dry, hot islands, so the buildings had flat roofs that could collect the minimal rainwater they received for reuse. This is especially important when you are on a small island with no other viable sources of water. These buildings were also all painted white to reflect rather than absorb the summer sun. The structures also had small windows to keep the heat out. Time inside these dark interiors is minimized by spending time on outdoor shaded patios.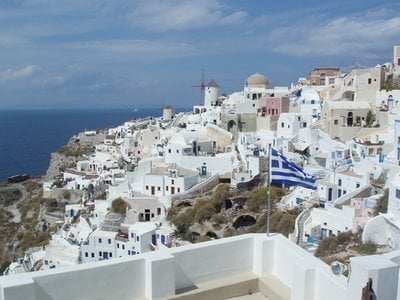 Designed for Dry: Santorini
Samos on the other-hand has a much higher annual rainfall, which was evident by the abundant vegetation on the island and the fact that it rained most the time we were there. This is why the roofs are pitched; to get the rain away from the structures. This milder climate also explains why the windows were larger and the buildings were not all white.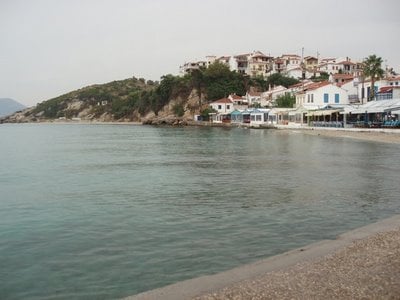 Designed for Rain: Samos
This beauty of this contrast is that it shows how buildings had to be designed to their environments in the days before electricity and easy transportation. The buildings were not designed to a particular style to maintain a common appearance but to their particular microclimate. I love the sustainability of these simple design moves. Although the process of making our build environment more "green" involves utilizing innovative technologies, these simple lessons from the past have much to offer the design community as to how to move sustainability forward.