Back in 2010, a representative from HUD (The U.S. Department of Housing and Urban Development) flew from Washington D.C. to Los Angeles to interview Modative, along with a few other key players in Los Angeles's Small lot Subdivision Ordinance. The goal was to create a report (which they did) summarizing the background, goals, guidelines, and potential improvements to the Small Lot Ordinace.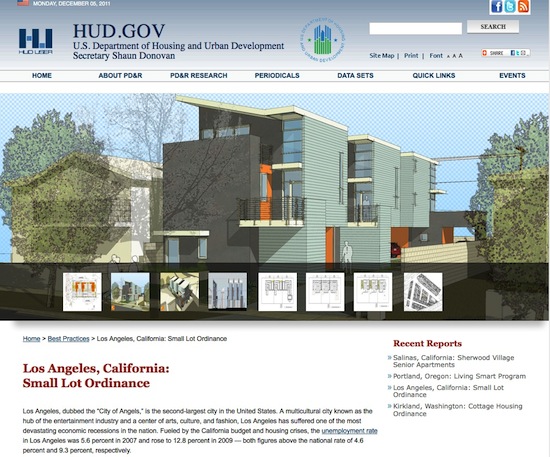 HUD's study, which uses images from Modative's Cullen Street Small Lot Subdivison Project.
The report does a great job of outlining the important issues involved in small lot development, from parking to financing and entitlements. It's a great resource for real estate developers, architects, and municipalities looking to impliment similar ordinances. Check out HUD's report on Small Lot Subdivision here.
Los Angeles Architects, Modative, specialize in Small Lot Subdivision projects. For more information on the Small Lot Ordinance, dowload our free informative Small Lot Subdivision Guides.