1. Small lot homes are not condominiums. They are fee simple, meaning you own the land the home sits on.

2. Residences on individual lots must have separate foundations and walls.

3. Driveways, walkways and utility access are accomplished through easements.


4. Each subdivided lot may contain up to three residential units.

5. Small lot subdivision projects are required to file a parcel map (four or less units) or a tract map (five or more units) to subdivide the land.

6. Homeowners association is not required. Only a maintenance association is required.

7. Each dwelling is required to have two parking spaces. No guest parking is required for projects under 10 units.

8. All zoning codes (including density) are the same as a standard project. Some breaks are given on setbacks and open space requirements.

9. Because small lot projects are fee simple, they have lower liability and insurance rates than condominiums.

10. The design and entitlements of small lot subdivision projects can be complex. Hiring consultants with experience is recommended.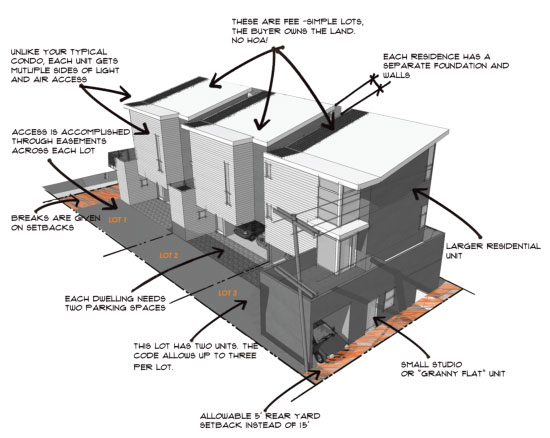 A diagram of some of the Small Lot Subdivision basics.
This Top 10 list and other Small Lot information can be found in our free download - "How-To" Guide on Developing Small Lot Subdivisions in Los Angeles